How to Achieve a 3:1 ROI on IT Transformation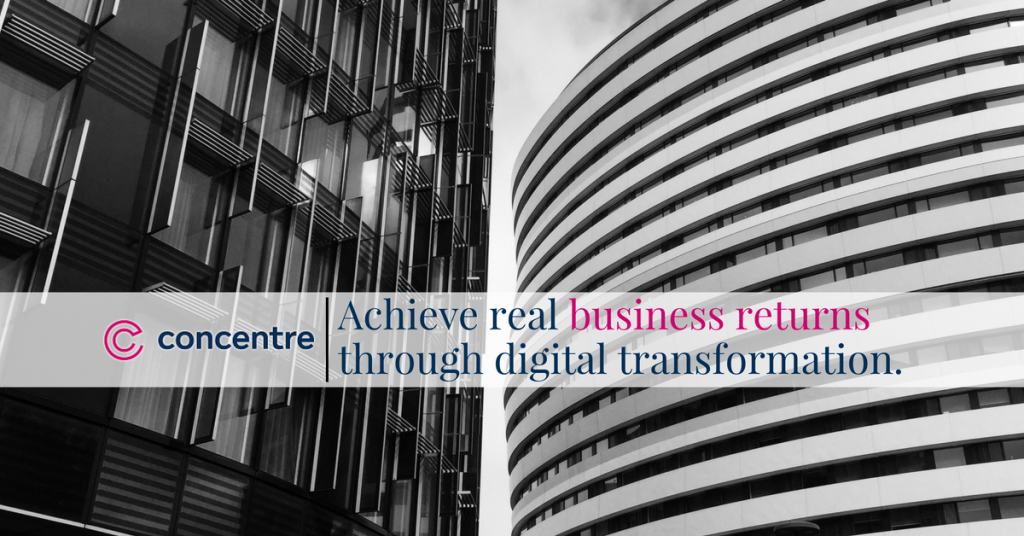 For any complex organization that relies on technology, digital transformation is a "when" not an "if." Business leaders are recognizing what can happen when they start looking at IT as a partner, not a vendor.
That means the stakes are getting higher. Leaders expect not only to break even on IT transformation, but to generate meaningful results.
So, what if your business could not only transform, but also generate 3:1 ROI — or better?
We asked this question at Concentre and developed a holistic, lifecycle approach that consistently helps businesses achieve real returns. Through strategy, planning, implementation and continuous improvement, our clients learn to align their people and processes with a shared sense of purpose.
In our experience, there are four major steps to successful IT transformation:
Step 1: Recognize the Opportunity
Conditions don't have to be perfect to take on a transformation. In fact, we typically find that other "trigger points" in the life of the business can become catalysts for change. Impending growth, significant shifts in the business plan, changes in leadership (especially at the IT level) or mergers and acquisitions provide a perfect backdrop for evaluating the IT organization's position in the company. Identifying these pivotal moments is one thing. Acting on them can be another. Business leaders must move decisively to take advantage of potential opportunities.
Step 2: Define the Purpose
To avoid running headlong into a costly, time-consuming initiative, leadership must start by defining where they are—and then determine where they're going. Setting baselines, prioritizing transformation objectives, and establishing specific qualitative and quantitative goals helps stakeholders create a clear picture of success. But before all that, leadership should consider why they're taking on a transformation at all. What's driving this decision? Aside from money, there are plenty of other outcomes from transformation that contribute to ROI.
Step 3: Teach People to Fish
Our work involves empowering IT organizations for success. That includes identifying talented people to serve as champions, cheerleaders, and contributors. It means creating ownership, accountability and a shared sense of purpose. Perhaps more than anything else, this is what separates Concentre from conventional IT consulting or technology delivery firms. Our clients learn to put the right people in the right places to create measurable, repeatable and sustainable results.
Step 4: Drive Sustainable Success
Many business leaders assume that the majority of ROI happens at the close of a transformation initiative. But we've found there are benefits to be realized long after the heavy lift. That means tracking, measuring, monitoring—and responding as circumstances change. A strategic IT department is always innovating. Make sure your business has the foundation in place to ensure your IT organization is positioned for continuous improvement.
When IT not only executes a transformation—but also sustains and even improves on it over time—that's when you'll realize the true value of the investment. That's when IT stops reacting and starts responding. And that's when the entire business can grow, innovate, and win.