About Our Self-Disruption: Concentre Partners Q&A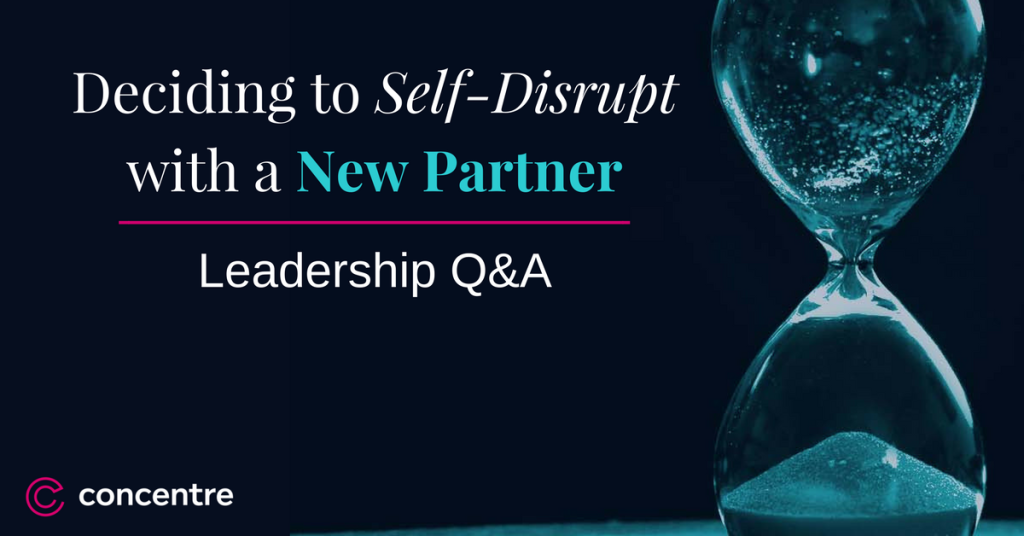 Yesterday on April 4, 2017, we announced a big change within our company – our most recent self-disruption if you will…the addition of a new partner. This addition at the Concentre leadership team level is beneficial not only to our clients but to the growth of our company overall. Self-disruption is challenging, but to achieve success in today's world, it is a required transformation.
Kevin Bonfield and Steve Hulme sat down with our new partner, Kevin Christ, to answer some important questions regarding this change within our company, Concentre's experience with self-disruption, and the effects on our clients, culture, and future.
Deciding to Self-Disrupt With a New Partner
Q:

Tell us what started the search for a new partner:
Kevin Bonfield: One of the things that we saw when we ran the technology transformation at Southwest Airlines is that our expertise and our methodology could deliver at least a $3 return for $1 of investment. So, we looked at our company and asked: "How can we expand the influence and impact that Concentre has?" What we needed to do was bring that methodology to a larger group of companies without diluting its strength and its message. That's why we're introducing a new partner. Somebody who has the expertise, the values, and the impact on the Dallas community already. By coming to Concentre, he's going to help us accelerate the impact we have on technology functions in this region.
Q:

What made Kevin Christ the top candidate for Concentre?
Kevin Bonfield: The first is his industry experience – the years that he spent in Dallas working with clients and seeing a range of situations and problems that he's solved. The second is that while client work is incredibly important, he also operates in the non-profit world supporting our local technology industry. The last thing that we saw, which is critically important for us and everybody that we hire – we saw the personification of our values.
Steve Hulme: What we knew of Kevin through this reputation was someone who had a lot of credibility in the business environment that we work in, someone we understood to be very much invested not only in his clients, but in the community he lives in, and has done a lot of work with different organizations. Kevin Christ had a vast network of influence and knowledge. The longer we spent time with him, the more comfortable we became in knowing that he has the values and perspectives that we have at Concentre. He's always looking for new opportunities and skills to add to his repertoire, and that's what we're all about.
Q:

Talk more about how Kevin Christ has fit in with the values and culture that Concentre is known for?
Kevin Bonfield: We use our value set to not only assess the people that are going to join Concentre but how they're performing on an ongoing basis after they've joined. To be able to see those values and our culture jump off the page and come through in our interviews with Kevin made us certain he was going to be a great addition to our team.
Kevin Christ: I have to recognize that each day I walk into one of our meetings – I'm the disruption. There was a rhythm to the business before I got here. I have some new and different ideas. Some of them are very well embraced, some of them are the wrong ideas.
Steve Hulme: In my mind, our culture and values are kind of self-enforcing with the partners that we've got. We're all very different people and we all see things from very different perspectives. I think that really starts to make sure that a single approach taking us down a wrong path will not prevail. It's kind of a self-enforcing mechanism we've got in place now with the different folks we have.
About Our New Partner
Q:

With such robust work experience across numerous larger organizations, what draws you (Kevin Christ) to boutique consulting firms?
Kevin Christ: In my career, I've worked with a couple of international consultancies. I've worked with smaller, more focused boutique organizations. The nice thing about being in a boutique firm is that we know who we are, we know who we aspire to be, we know what we bring, and we're not trying to be all things to all people.
Q:

What was your initial impression of Concentre during the interview process?
Kevin Christ: I was pretty impressed with the firm when I arrived. In my interviews with Kevin, Steve and the rest of the team, I found them all to be incredibly intelligent. Kevin Bonfield is a true visionary. I really enjoyed his perspectives – they stretched my own imagination at times. Steve has such a detailed breadth of knowledge in what it takes to run complex IT functions. Between the questions they asked and the context they provided, I knew the firm was in good hands.
Q:

Tell us more about how your work experiences will benefit Concentre:
Kevin Christ: I think my history in working with some very large, complex organizations across a variety of industries helps me understand what it takes to turn the Titanic. When you walk into a Fortune 50 company, nothing gets done without a decree. You have to change the behavior, the thoughts, the processes for hundreds or thousands of people. I think having been through that process, you learn more from each situation. You gain new techniques and you figure out what works and what doesn't work.
Concentre's Experience with Self-Disruption
Q:

When did Concentre know it was time to move forward with plans to "self-disrupt" as you call it?
Kevin Bonfield: As we looked at the client needs that we had in front of us and the opportunities that exist within the marketplace, we felt that it was important to go and add to our expertise and disrupt ourselves. It is much better to self-disrupt than to be disrupted.
Steve Hulme: I think we're no different than any other company in that perspective. It's all about being ahead of that curve. We decided that now was the time to self-disrupt. We do that every day with our clients, but it's sometimes hard to internally reflect and get the same independent perspective. We did take some council from external parties to figure out if this was the right time, the right direction. But at the end of the day, it was just a matter of when – not if – we needed to disrupt ourselves.
Q:

Were there any internal signs that helped confirm your team was ready?
Steve Hulme: When you start to feel you've got this cornered, when you start to think that you know all the answers, when you start to believe you can see where the future's unfolding –those are all danger signs that it's time to think differently. The reality is that if we all had those capabilities, we'd all be in a much more successful place than we are today. And we don't, quite frankly. Those were some of the initial clues to us – we were getting too comfortable, we were thinking about things with not as much thought or purpose as we've had in the past, and we didn't have some of that angst that we needed to have and I think that when we reflected on that, we knew now was the time to do it.
Q:

What are some of the challenges Concentre has faced or will face throughout this self-disruption?
Steve Hulme: It's difficult sometimes for employees to see the same things that we do as a leadership team because they're coming from a different perspective. Change is very hard for all of us, and change that you can't see the reason for is something that's dangerous. So we tried to walk them through the need for this change, the value of the change, the outcome of the change. I think over time they started to see what we were seeing with a little bit more clarity and they were certainly supportive as we got into this.
Kevin Christ: I think the interesting challenge and the next phase of our growth is the balance of bringing new clients in the door and bringing in excellent staff to serve those clients. That balancing is a critical component of a successful consultancy. We will grow bringing in one significant client at a time, building a deep understanding of their business, building deep relationships within their business, and truly serving them where they are, helping them get where they need to be. It is a different and unique story with each leadership team, in each company, in each industry.
Client Expectations and the Future of Concentre
Q:

How will the addition of a partner affect Concentre's current client-base?
Kevin Bonfield: It allows us to have more partner focus per client and brings more development to the team. One of the great things about adding a new partner is that they bring additional expertise across a range of industries, solving a vast array of different problems. When combined with the existing team that we have, it means that we can solve problems faster and more thoroughly. So you're getting a greater value out of all the levels within our consultancy.
Steve Hulme: It's a chance for a different perspective to come to the table. I think sometimes to have some diversity of thinking ends in a much better solution for our clients. I think this really starts to round out our team and our thinking, and it really starts to generate more discussion that we need to get better answers for our clients.
Q:

Has your latest self-disruption changed the outlook or future growth for the company?
Steve Hulme: It's brighter. It's brighter and it's got more extensibility I think, for the future. I think the attributes that Kevin brings to the table are attributes that we didn't have as much of. And certainly, I think that extensibility really is something that we are looking forward to.
Kevin Christ: Concentre deals with disruption internally. We make intentional decisions to shake things up, and I'm not the last disruption – I'm just the next disruption. We'll see a number of new and interesting senior hires in the coming year and years. With each of them, we bring new thinking, new capabilities, new ideas, new experiences for the benefit of our clients.