building the business case for digital transformation
The client is an industry leader in innovative excavation services with more than 130 locations throughout North America.
For almost 30 years, the company has been using cutting-edge technology to deliver excavation services to a diverse, multi-industry customer base.
The client sees opportunities for continued rapid growth throughout North America, but it's current business applications are outdated and unable to scale with company growth. The company identified a new application suite for improving its capabilities but needed a clear business case in order to justify the investment required to transform its application infrastructure. Specifically, the client needed to clearly articulate how the new system will deliver value, evaluate the range of anticipated benefits, and assign accountability for achieving results.
Concentre followed an iterative 3-step approach to develop an in-depth understanding of the value drivers for the new business platform and the expected value of the anticipated benefits from the new system.
Information gathering and hypothesis development
Concentre developed a preliminary set of hypotheses, based on prior experience, regarding the potential benefits of deploying the Business Technology Platform. Initial hypotheses helped guide information gathering and analyses to develop a benefits framework and identify key processes for evaluation.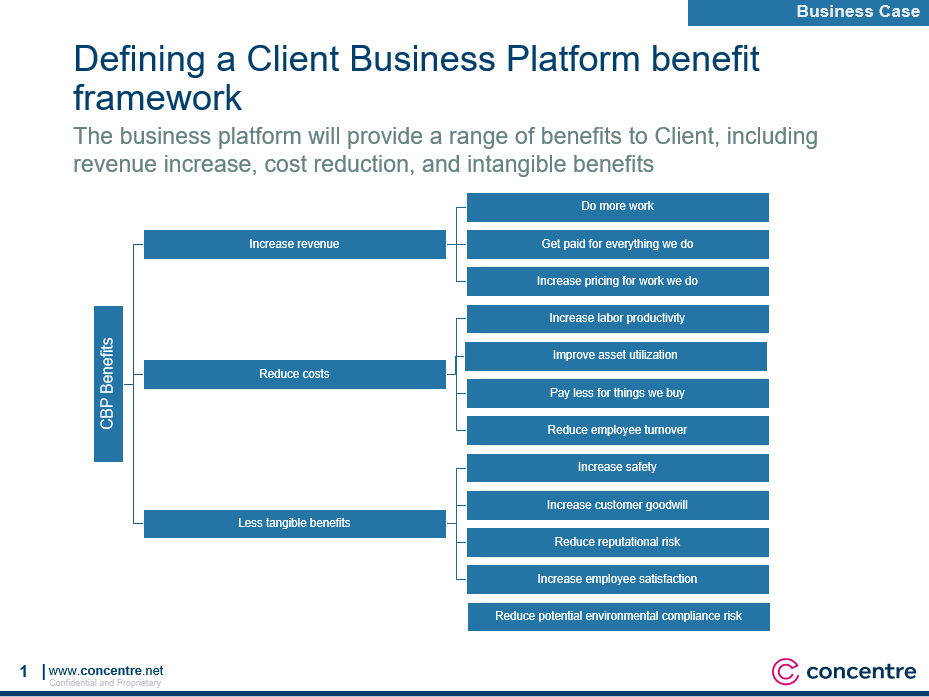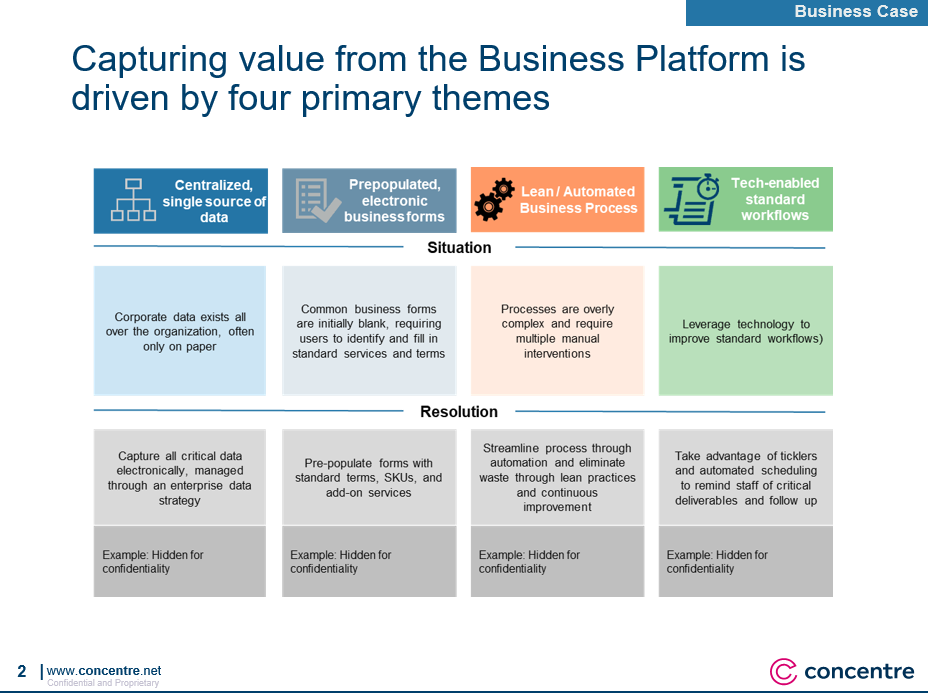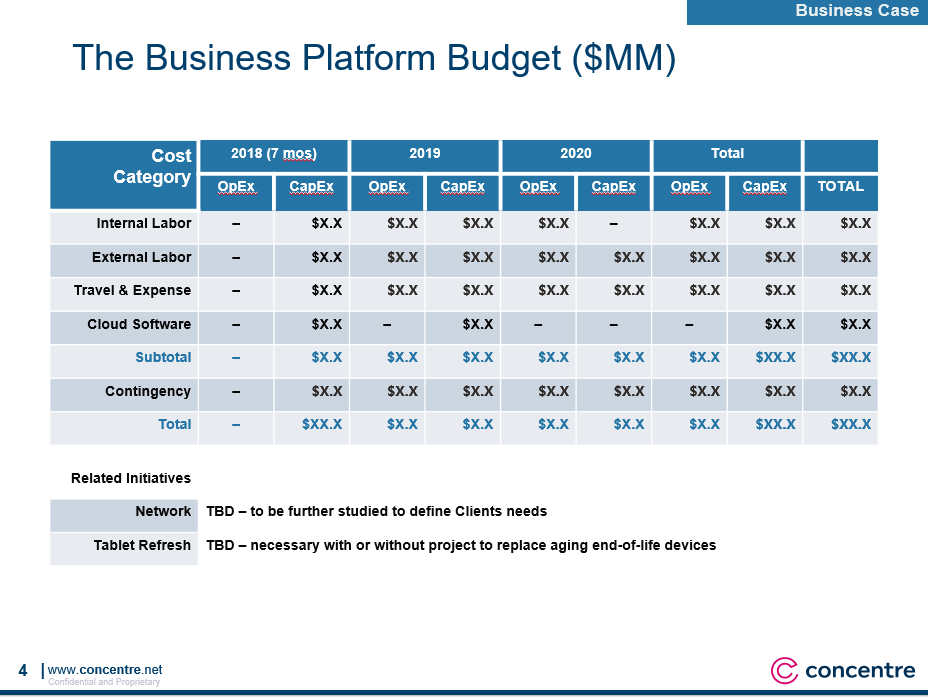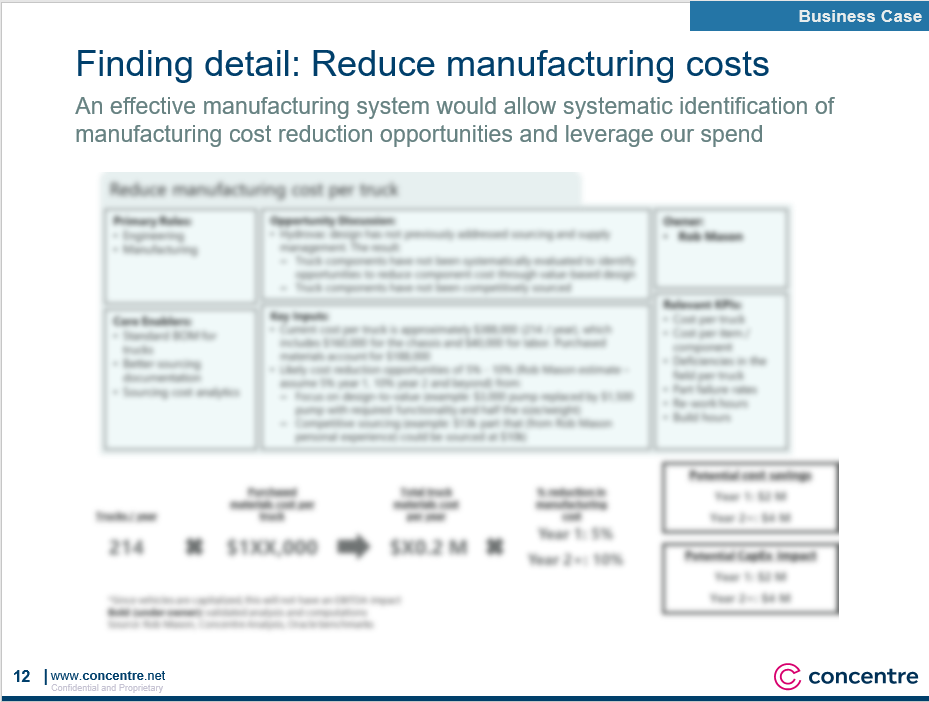 Value analysis and validation
Concentre worked through key process areas to understand current challenges and evaluate the basis for delivering anticipated benefits. The team conducted an in-depth analysis of current customer work planning and delivery, manufacturing, and HR processes and existing data sources in order to clearly and quantitatively characterize benefits and potential impacts. Data reviewed included detailed transaction data compiled from across all client locations.
communicate results and obtain board approval
Aggregate quantitative assessments to:
Communicate overall value findings
Highlight the primary drivers of value by area
Identify stakeholders with primary accountability for delivering benefits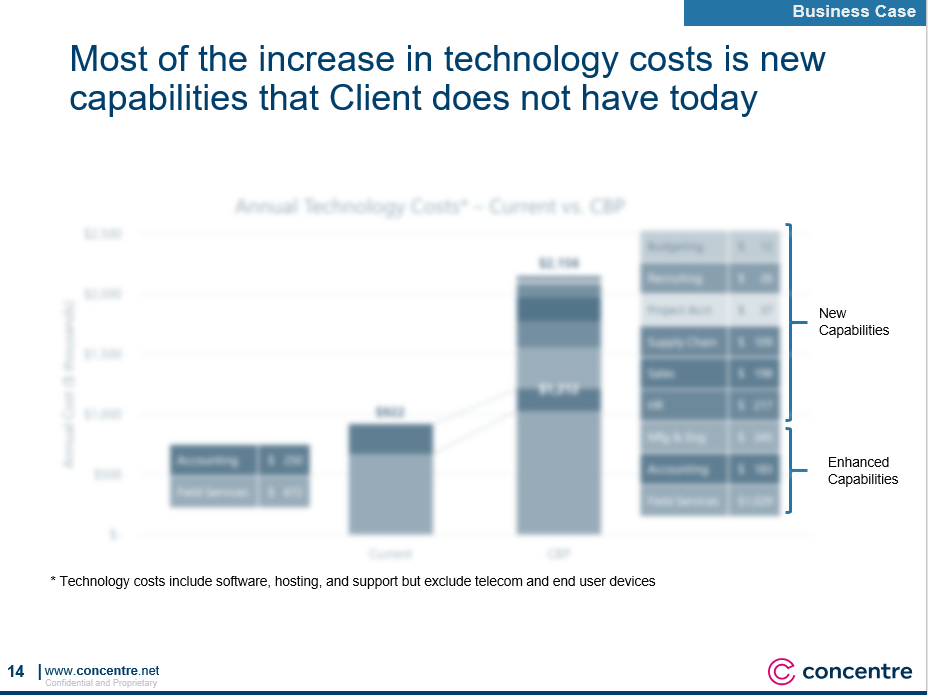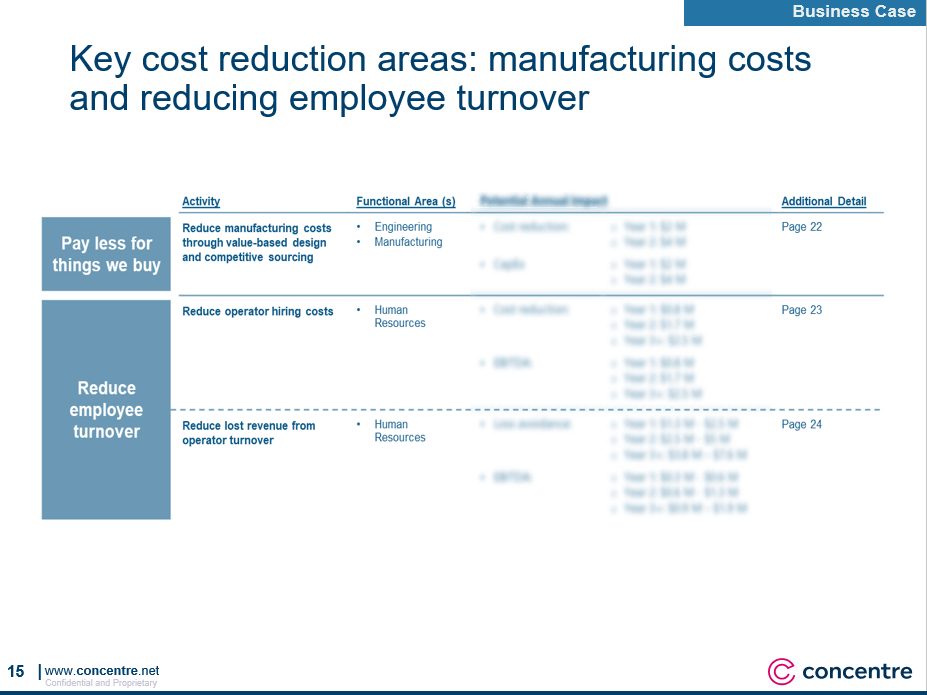 Concentre identified a combined multi-million dollar annual benefit. These findings enabled the company to obtain final approval and funding from the board to move forward with the transformation project.
In addition to the financial benefits quantified, the work completed by Concentre enables the long-term viability and scalability of the client's business.
While simple in theory, a robust Cost / Benefit Analysis and Strategic Business Case is a significant undertaking for a multi-million dollar transformation initiative.  Often, functional leaders do not fully understand how to fully quantify the major costs associated with process design, data cleansing / conversion, technology, testing, training, and change management, underlying a transformation. Similarly, technology leaders often don't have a full understanding of the business impact.  
By doing the heavy lifting, Concentre was able to bring objectivity to challenge the client's thinking while leaving the ultimate business decisions in the hands of client leadership.  Even an initiative of this importance is one of many priorities for an always over-extended senior leadership suite.