Insights into JC Penney's Digital Transformation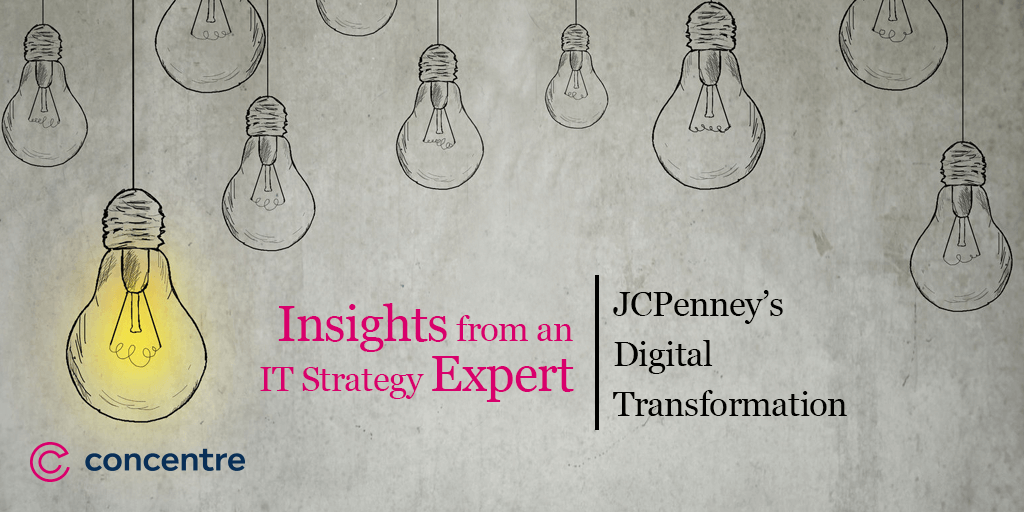 In 2016, businesses are racing towards digital and technological transformation. They are acquiring smaller companies and the associated capabilities, growing internal IT budgets and/or departments, restructuring their entire strategy and IT planning, and launching digital projects and platforms in search of improved ROI. Throughout these transformations, many things can happen to the business and its strategy.
When a business transformation makes headlines, the employees here at Concentre get a bit…nerdy. We read the articles and gather every bit of information to fully analyze and assess the situation. Our experience lends us the wisdom to answer those questions every CEO, CIO, and IT manager has running through their head when they read the news:
At what point should a company consider expanding IT?
Can departments increase productivity across different time zones?
How does a transforming business improve their probability of success?
What will I do if my company makes the same business move?
We centre ourselves in what is happening and provide insight on why IT strategies tend to fail, and more importantly, how to make them succeed. It's what we do – it's our passion.
JCPenney's Digital Transformation
JCPenney recently announced plans to open an IT office in Bangalore, India, moving part of its current IT department functions from its Plano, Texas headquarters. The company's new CEO, Marvin Ellison, has made strides during his first year with repositioning JCPenney's focus after realizing the company had previously ignored the modern-day expectation of omnichannel retailing. In fact, the Dallas Business Journal reports that they are looking to "replatform, redesign and do cutting-edge work." JCPenney has sought help from ANSR throughout the transition and setup of the new IT office.
Steps to Transformation Success
Many businesses have succeeded in moving IT operations overseas. However, JCPenney is not simply moving an office. Implementing a new digital strategy while disrupting the current structure of the involved department is a daunting task, but not impossible.
The time zone difference is a challenge, but can be used as an advantage once there is operational and communication efficiency. However, any differences in understanding the company's purpose and values are much, much harder to bridge if they are not addressed upfront, as part of the setup of the new operation.
As they begin the process of opening a new IT office overseas with their consulting partner, there are five steps based on our experience they should consider to improve the likelihood of success:
Be clear on whether the primary purpose of this move is to lower cost or increase access to talent
Engage the Plano team in the change – be clear on the primary purpose, how they fit in and how they can be successful
Hire the leaders for their Indian operation first (before team members)
Onboard the new Bangalore team in Plano to establish their purpose and objectives at the new operation, giving them a clear view of what is needed when they return to India.
Budget and plan for team members to travel to and from Plano and Bangalore on an ongoing basis to ensure continued alignment
Ultimately, JCPenney's number one focus should be maintaining a shared purpose and vision throughout all office locations. From my experience in this industry, I can confidently say that an aligned and connected team, regardless of time zones, is the launching pad towards success in a digital transformation.
I'm eager to watch how this transition pans out and give my best wishes to those involved with the process. In the next few years, we might just see an entirely new and innovative omnichannel retailing experience from JCPenney.