The Value of an IT Strategy: How to Deliver Meaningful Results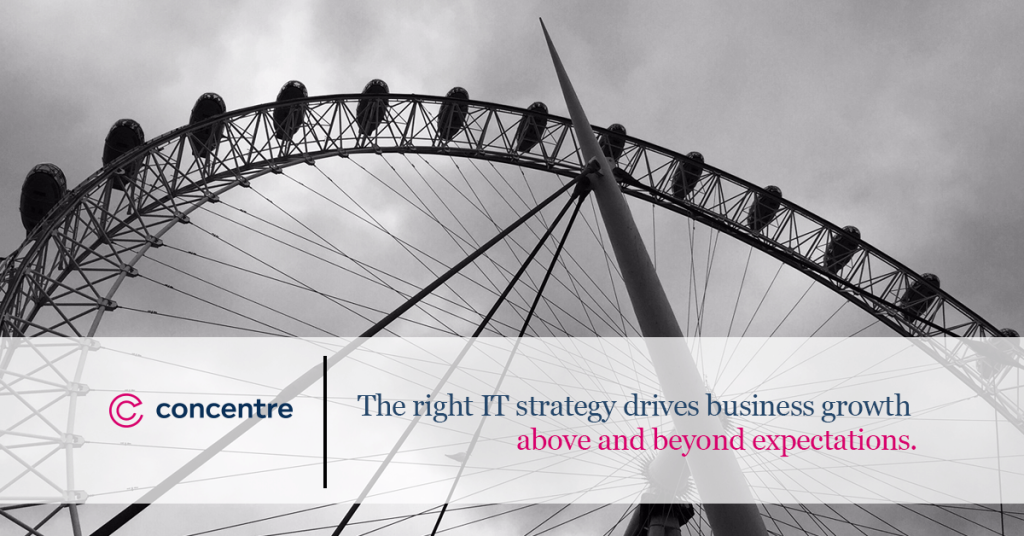 As enterprises embark on the path to digital transformation in hopes of becoming more responsive and proactive, business leaders are recognizing the need for IT strategy. However, even with a strategic initiative in place, most IT organizations fail to effectively execute and/or deliver the desired results. In either scenario, IT executives often struggle to demonstrate the value technology brings to the business across the enterprise. As a result, many business leaders see their technology organizations as order-taking "tech shops" — and not as strategic partners.
Identify the Obstacles

In our experience, CTOs and CIOs are faced with two unique challenges. First, they must make a case to business leadership for developing and implementing an IT strategy. Second, in enterprises that already have a plan in place, IT leaders must not only deliver — they must communicate their value in terms the business can understand.
Here at Concentre, we help business and IT leadership align on their vision, create a workable IT strategy, and then help the entire leadership team identify and celebrate the true value of a successful IT framework. For us, that framework includes not only a clearly defined strategy but also a roadmap for delivery — with guidance and support to ensure success every step of the way.
Customize Your Strategy
In one instance, we helped a client successfully conceive and employ an IT strategy to lead its technology transformation. Working with business and IT leadership, we set appropriate expectations, identified success factors, and optimized the IT organization to better serve the business. Together, we identified the right work to be done, and then put the right people in the right places to accomplish it. Ultimately, IT created efficiencies, met or exceeded expectations — and delivered value that directly translated to a 5:1 return on investment.
The most effective way technology leaders can demonstrate the value of an IT strategy is to tie their work to the business plan and/or business outcomes. Another IT organization that we worked with made sound decisions for all the right reasons — they simply didn't justify those choices to the business in terms of hard- or soft-dollar savings, KPIs, or other metrics. When IT can keep leadership in the loop throughout the process — and then demonstrate measurable value to business customers, it gets everyone on the same page — and helps foster trust between business and IT.
Continue to Learn
For businesses that acknowledge the need for an IT strategy — and maybe even have one in place — Concentre helps IT leaders demonstrate value throughout the process, and shows business leadership the real advantages of having a partner in IT.
How does your IT organization communicate value to the business? We invite you to share your experiences for the benefit of other readers. If you would like to learn more about Concentre and how we can help your IT organization become a strategic partner for your business, head over to our services page.